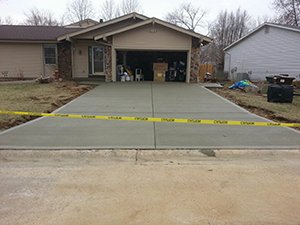 Any stamped concrete contractor can tell you many wonderful tales of the successful jobs they have completed, how good the quality of their work is, and that they are the most trustworthy company in the region, and many stamped concrete contractors you find in the St. Louis area will say the exact same thing.
Yet we aim to be different. We do not want to tell you how good we are, or that we promise you this, and promise you that. We let our happy customers speak for themselves! Read on to see some recommendations and testimonials for our stamped concrete contractors, and when you are ready for your free, no obligation quote, give us a call at 636-614-5284 to speak with one of our concrete contractor experts today!
---
"My wife and I would highly recommend Tom Stone and StoneEdge Concrete! Their attention to detail and focus on the job was amazing. I will definitely use them on our next project! Thank you StoneEdge for the new driveway!"
– Daniel & Logan Thal
---
Our Stamped Concrete Contractors' Commitment to Customer Satisfaction
StoneEdge Concrete is a family owned and run company who fully stands behind their products, services, and workforce. As a company, we have over 50 years combined experience in the industry, and our skilled crews boast well over 20 years combined experience in their sector of the concrete industry.
StoneEdge Concrete is committed to each and every customer we work for, and we treat each and every job as if we were doing it for a member of our own family. This mentality keeps us always striving for 100% customer satisfaction in each and every job we do. We may just be the only stamped concrete contractor you ever need to call. From laying walkways, driveways, patios and pool decks to garage floors and basements, we can do all this and more.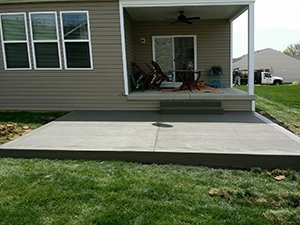 Additionally, we can provide expert concrete repair services in St. Louis County as well. No matter what your concerns or requirements for repair are, we will analyze your concrete and provide you with a personalized quote so you know exactly how much you can expect to pay.
We are fully insured, our customer care is second to none, and all of our products and services are fully guaranteed. From day one, we had a motto of "No Job Too Big or Small" and we still carry that with us today with pride.
To further support out guarantees, we follow advised practices and standards to ensure we provide the best results possible for any job that you require. We always adhere to the timelines we set, and we remain in contact with you throughout the curing process to ensure things are going well.
Contact a St. Louis County Concrete Contractor Today
StoneEdge Concrete is proud to be a leading St. Louis stamped concrete contractor where customer satisfaction comes first. We hold ourselves fully accountable and strive to be transparent in everything we do throughout the entire process.
We can provide stamped concrete contractor services to the entire St. Louis County area including the South and West County and as far as St. Charles and Wentzville. Just give us a call at 636-614-5284 or fill out our convenient online form to schedule your free consultation!