For many years, StoneEdge Concrete has touted the benefits of exposed aggregate concrete as one of the best concrete finishes you can choose. This concrete finish offers a unique aesthetic, is extremely durable, and gives you the best value for your money. These benefits make it an ideal choice for many areas around your St. Louis home including driveways, walkways, patios, pool decks, and more.
To learn more about the benefits of exposed aggregate concrete and to request a quote for your St. Louis concrete project, contact our concrete contractors today at 636-614-5284.
Choosing the Best Exposed Aggregate Concrete
Available in many colors and styles, exposed aggregate concrete can be suitable for many areas, yet it is often one of the best choices for walkways, driveways, patios, and pool decks. When choosing the best surface, our experts will advise you on the differences between each type of aggregate and the benefits of using them in specific locations. Additionally, depending on the size of the project, various methods may be used when revealing the aggregate for your final finish. Our expert concrete contractors have combined experience of over 20 years in the use of these finishing techniques and will provide the best one to fulfill your requirements.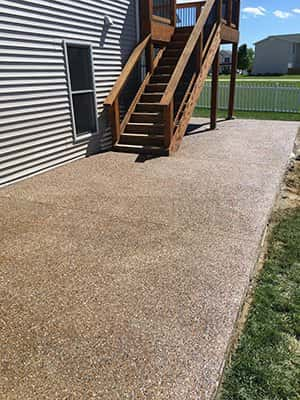 Stone Edge Concrete has laid many exposed aggregate concrete surfaces throughout the St. Louis County area, and our most requested finishes are:
Old Monroe
Illinois Glacial
Torpedo
Meramec
When deciding on the choice of exposed aggregate concrete you wish to use, the following key factors should be considered:
Color
Hardness
Size and Shape
Cost and Availability
Benefits of Exposed Aggregate Concrete
Aggregate concrete is an extremely durable and lasting surface that can add beauty to any area around your home or landscape. Some of the key benefits include:
Surfaces are durable, non-slip, and resistant to heavy traffic and adverse weather conditions
Various types of aggregate can be used to produce a highly decorative finish which includes unique colors and textures
Available in many styles, aggregate can blend with other concrete finishes around your home and garden
Very low maintenance is required
The Importance of a Concrete Sealer
As a final step in our exposed aggregate concrete installation, we advise the use of a concrete sealer that will help to improve an already gorgeous appearance and increase the performance of the surface. These sealers help to protect against freeze-thaw damage, salts used for de-icing, stains, and heavy abrasion. A good sealer will ensure your concrete lasts you for years to come with minimal maintenance.
Contact Us for Exposed Aggregate Concrete Work in St. Louis
Stone Edge Concrete has many years of experience working with exposed aggregate concrete. Over the years, we have become one of the major names in providing concrete services in the St. Louis County area, with exposed aggregate concrete being one of our most requested. As with any of our projects, we consider customer satisfaction to be our number one priority, so we treat each and every project as if it was for a member of our own family. Our attention to detail is second to none, and we offer you both personal and product/service guarantees.
For more detailed information on our exposed aggregate concrete services and the finishes we have available, contact us today! You can speak to a StoneEdge concrete contractor by calling 636-614-5284 or using our convenient online form.