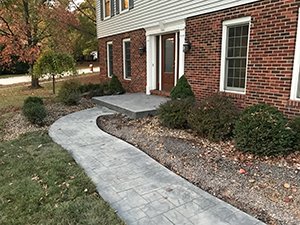 A sidewalk around your home can be a great addition, and apart from your concrete driveway, it will probably get more use than any other area around your yard. A concrete walkway can not only increase the curb appeal of your property, it is a long-term investment and can help to increase the value of your home.
StoneEdge Concrete has been installing concrete walkways around St. Louis County and the surrounding areas for many years. Our skilled workmen have over 50 years combined experience in the concrete laying industry, so you know we will get the job done right the first time.
Get in touch with one of our concrete contractors today either online or by calling 636-614-5284 to learn more.
Concrete Walkway Design
We can install concrete walkways in many designs  and styles, ranging from the standard 4' wide to any custom design including our range of design stamps and colors. We can also keep things simple if you prefer a more traditional style and create a highly durable exposed aggregate finish where the stones provide a totally unique finish and design.
Additionally, while many homeowners may think they have to be limited to walkways that have straight edges, our experienced work crews can install walkways with custom round designs that have the ability to completely transform your home or garden.
While there are many unique concrete options to choose from, when planning any concrete walkway, it is advisable to choose a design which is practical for the purpose it is intended. Our expert designers will advise which surfaces are both the most durable and provide the safest surface during adverse weather conditions in order to prevent injury. We want you to get the most out of your concrete walkway investment.
Concrete Walkway Repair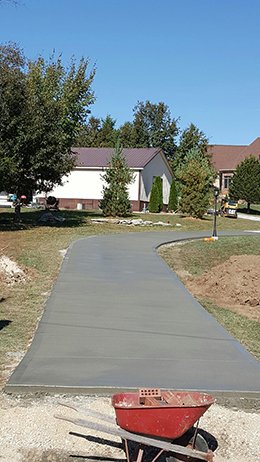 Concrete walkways can suffer damage for a multitude of reasons. This can be from age, water damage, or from root damage caused by nearby bushes and trees. Oftentimes, concrete repair is an easier and less expensive alternative to laying a brand-new sidewalk or walkway.
No matter what type of damage your walkway has sustained, StoneEdge Concrete has a solution that can meet your needs at a reasonable price.
Our Commitment to Quality
Over the years, StoneEdge Concrete has installed and repaired hundreds of concrete walkways and sidewalks all over St. Louis County and the surrounding areas of South County, West County, Wentzville, and St. Charles.
Such is our dedication to our clients; we treat each and every sidewalk installation as if it was our own, and follow the suggested ACI & ASTM practices and standards to ensure you have the best and safest sidewalk that will provide many years of use for your family and friends. Our concrete walkways undergo the same attention to detail as all of our services and are fully guaranteed, so, we are fully accountable for any unforeseen eventualities.
Customer satisfaction is our main concern above anything else, and if your sidewalk has not been completed to your expectations, we will make it right.
Learn More About Our Concrete Walkway Services in St. Louis County
For more information on our concrete walkway installation or walkway repair services in St. Louis County, you can speak to our concrete contractors directly at 636-614-5284 or get in touch with us through our online form.