Driveways in St. Louis County have a tough life: they get walked on, driven on, and exposed to all weather conditions, be it baking hot sunshine, high humidity, hail and snow, right down to pouring rain.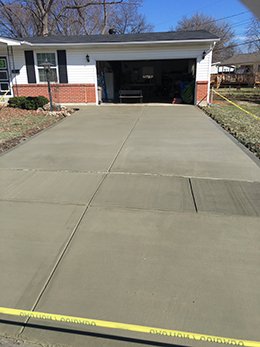 When choosing a driveway, you only want it to be laid once and for it to last many years. Not only should it be highly durable and resistant to everything that gets thrown at it, it has to blend with the rest of your home as well. The concrete driveway contractors at StoneEdge Concrete can provide driveways that fulfill all of your requirements, no matter how the land lies around your property.
With over 50 years combined experienced in the concrete driveway contractor business, we have seen and laid every configuration possible. We know that every home has unique needs, so each will require a custom solution. No matter what type of task you have for our concrete driveway contractors, "No job is too big or small". Contact a concrete contractor today for your St. Louis area project online or by calling us at 636-614-5284.
Our Concrete Driveway Contractor Services
As experienced concrete contractors, we can help with the entire process. Once we have surveyed your home or property, our skilled concrete driveway contractors and designers will work with you and outline the whole process of what you can expect during the concrete laying phase. We will explain the many coloring options you can choose from and even recommend which ones would best suit your home.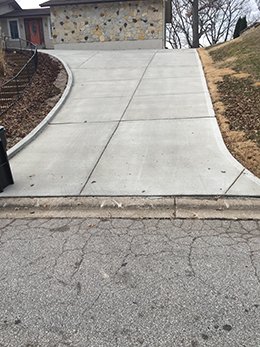 Our concrete driveway contractors know that aesthetics is also important, so we offer many choices for the actual finish of the concrete. These include:
Light Brush Finish: This finish is the most common finish you see for laid exterior concrete and can offer the best cost option while also providing high traction and durability.
Stamped Concrete: This gives a completely custom look to your finished concrete, as it is stamped with a pattern of your choice to create any look you desire.
Exposed Aggregate: This is a decorative finish is the most durable and gives a unique look with different stone colors and textures.
All of these finishes are available for our driveway installations or for any other project you may have for our concrete driveway contractors.
Replacement Driveways
Our concrete driveway contractors provide much more than new installations of driveways. If you are having problems with your current driveway, one of our professionals can advise on what is the best course of action to take. Much of this dependent on the type of problems you are having with your driveway and how old it is.
For example, if you have a driveway that is 20+ years old, it may be time to consider replacing the whole thing, as any concrete repairs which are carried out will only be a temporary fix, and often the driveway around the repaired patches will start to fail as well as. Secondary to this, the repaired patches often look unsightly and can ruin the curbside appeal of your home.
Driveway Resurfacing
This can be a cost-effective alternative to replacing the whole driveway. If the structure underneath is sound, our skilled concrete driveway contractors can remove the top surface of your driveway and replace it with a new layer. This can also be a good option if you wish to change the look of your home as the finishing options will still be available should you go this route. With this option, our concrete driveway contractors can greatly enhance the aesthetics of your home if you are considering selling the property.
Contact Our Concrete Driveway Contractors in St. Louis County
For more information on our concrete driveway contractor services, speak to our experts directly at 636-614-5284. Our concrete contractors proudly serve St. Louis County as well as the surrounding West County, South County, St. Charles, and Wentzville areas.