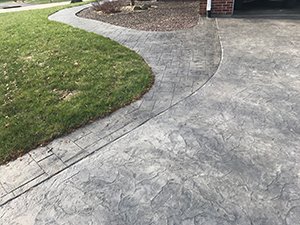 At StoneEdge Concrete, we are a proud family owned and run concrete contractor based in St.  Louis, offering premium concrete services for many different types of commercial and residential products. We can provide driveway, walkway, and patio construction, concrete stamping, all forms of concrete repairs, plus much more.
If you are looking for a quality concrete contractor that always gets the job done right the first time, complete our contact form for a personalized quote or give us a call at 636-614-5284.
We proudly serve St. Louis County and the surrounding areas of West County, South County, Wentzville, and St. Charles. We cannot wait to show you why we are the premier concrete contractor in the area!
---
You can reach us at:
StoneEdge Concrete LLC
313 Walnut Forest Drive
O' Fallon MO 63366
Phone: 636-614-5284
Hours: Monday – Friday: 8:00 AM – 6:00 PM
---
As a professional concrete contractor, we offer a free, no obligation quote for concrete projects you wish to undertake or concrete problems you are having. We are confident that we offer the best services at some of the most competitive prices in the St. Louis area.
The StoneEdge Concrete Advantage
When you choose our concrete contractors to work on your project, you can rest easy knowing we guarantee all products and services that we offer. As a premium concrete contractor, we only use the highest quality components and materials, and being one of the leading names in the industry, there are many advantages of choosing us to be your chosen concrete company:
Affordable and highly competitive pricing
Over 70 years combined experience for installations crews and management
Highly skilled concrete contractors with over 20 years' combined experience
Company management who has over 50 combined years of experience in the concrete industry
Residential and commercial concrete services and repair
High-quality guarantees on all work
Full compliance with all safety codes in the St. Louis areas we serve
Contact a Concrete Contractor Now to Request a Quote for Your Project
When you decide to work with StoneEdge Concrete as your concrete contractor, you are guaranteed the very best of treatment and the very best of services from our highly skilled workforce. We take pride in every job we do, and "No Job is Too Big or Small".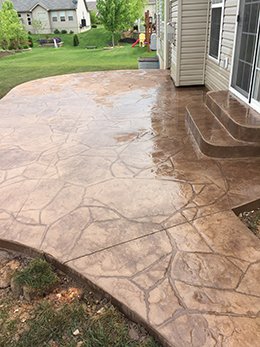 We offer a variety of concrete services including:
Concrete Driveway Construction
Concrete Patio Design
Stamped Concrete
Exposed Aggregate Concrete Work
Concrete Retaining Walls
Concrete Sealing
Pouring Garage Floors
Pouring Basements
Concrete Repairs
For any concrete services or repair, please contact an expert concrete contractor by calling 636-614-5284 or completing our contact form. Whether you are in St. Louis County or the surrounding areas of West County, South County, St. Charles, or Wentzville, our friendly staff is ready to help you schedule an appointment or get you a free, no obligation quote for your next project.
StoneEdge Concrete believes customer satisfaction is the number one thing that can transform an average concrete contractor into a great one, and we look forward to hearing from you!