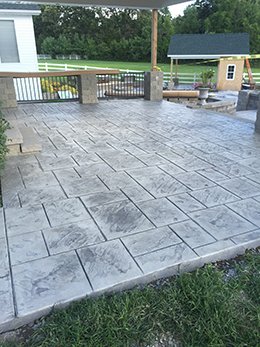 Stamped concrete can a create a long-lasting impression and can give your home a unique look like no other, all of which is more economical, quicker to install, and will require a minimum amount of maintenance compared to other stone and pavement options.
At StoneEdge Concrete, we offer a variety of stamped concrete options and can customize any design to your specifications. To learn more, get in touch with a St. Louis concrete contractor from StoneEdge Concrete today by calling 636-614-5284 or completing our online form.
Stamped Concrete Colors & Options
As an experienced concrete company we have a multitude of colors to choose and styles to choose from and can replicate nearly any natural stone or paver that you can think of with stamped concrete. The colors can even be mixed and matched to create a custom design if you wish.
You may think stamped concrete is just for walkways, driveways, and patios, yet it is an ideal solution for pool decks and much more! In fact, in any area you can think of laying concrete, our experts can help you choose a design that can greatly enhance it.
Our Stamped Concrete Process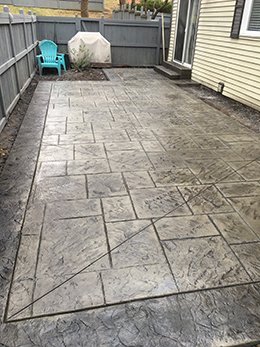 Creating our stamped concrete consists of multiple procedures, which will ultimately give the final custom look to your concrete. The process includes the following steps:
Applying Base Color: This primary color will vary depending on which look you are aiming for. It is often chosen to match the natural building materials surrounding the concrete. Although there are many ways to color the concrete, the two most common are "integral color" where the whole volume of concrete is colored and "cast-on color" where only the surface of the concrete is colored.
Adding Accent Color: This is the secondary color that is added. It is used to produce texture and show whatever finish you are looking to achieve. This coloring is achieved by applying color release to the concrete. This part of the process also helps to stop the stamps from sticking to the concrete.
Stamping Patterns: Finally, the pattern is stamped into the concrete. The pattern is the shape or design which you have chosen and can replicate many different surfaces such as:

Flagstone
Cobbles
European Fan
Slate

Applying Sealer: To preserve the colors of your stamped concrete, a sealer is often used to protect and prevent fading from UV rays and adverse weather conditions.
With over 20 different stamped concrete designs available, we offer plenty to choose from that will enhance the look of your St. Louis home and provide a highly durable surface that is easier to install than natural stone and can give the same effect at a much lower price point.
Our Commitment to Customer Care
StoneEdge Concrete is committed to providing you with the highest quality stamped concrete that will provide many years of durable service and help to increase the value of your home. As our commitment to our customers, after surveying where you wish to have stamped concrete, we will advise you on the safest and best design and finish for that area. Additionally, we guarantee our work and strive to achieve complete satisfaction with each project.
Contact Us for a Stamped Concrete Quote in St. Louis County
For more information on our stamped concrete services, call us at 636-614-5284 to speak with a St. Louis concrete contractor or use our convenient online form.