No matter what construction project you have undertaken, and concrete is no exception, from the day it is completed it is exposed to the elements and so it will slowly start to deteriorate. One way to protect your investment is with concrete sealing.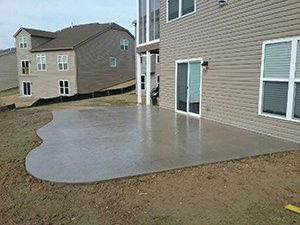 You may think it unnecessary, but even simple things can not only make your concrete erode quicker, but they can also ruin the look that you invested so much into. For example, during the winter, you may use rock salt to remove ice from your concrete driveway, which can slowly eat away at the surface – or a simple oil leak from your car can leave stains which can be unsightly and difficult to remove. Concrete sealing can protect against all of this and more!
To learn more about concrete sealing or to request a quote for our services, give us a call at 636-614-5284 or use our online form to speak with a concrete contractor.
What is Concrete Sealing?
While concrete is typically a very durable surface, unfortunately, concrete is a porous material and can readily absorb moisture. When this is combined with freezing and thawing, the concrete can easily become cracked or the surface of the concrete can be totally destroyed in a worst-case scenario. Concrete sealing is the process of applying of coating to provide resistance to moisture, chemicals, and more in order to prolong the life of your concrete. The concrete sealer can also enhance the look of your concrete in the process and requires little maintenance.
Concrete sealing is a process that needs to be conducted properly, so it is wise to hire professionals to ensure the job is done right the first time. The addition of concrete sealing is not an easy process. Too much can be just as bad – if not worse – as not adding enough. Secondary to this, there are many different sealers available and each has a different function and is tolerant to different effects and chemicals. An expert, like those at StoneEdge Concrete, can help you determine which sealer is right for you.
If you want to get the most out of your concrete patio, driveway, walkway, or garage floor, contact the experts at StoneEdge Concrete today and ask about our concrete sealing services!
Why Choose StoneEdge Concrete for Concrete Sealing Services?
As a family-owned business with over 50 years of combined experience, we would never consider laying concrete without the addition of concrete sealer. The reason for this has two answers, one of which is not "extra money".
First, we treat every project as if it were for ourselves. We want you to get the most out of your new concrete for years to come, and concrete sealing can help this. The second answer is if you have no sealer in place and your concrete has problems, it will reflect badly on us. We have worked hard to build our reputation for excellence. We have a personal stake in every project we do, and we always strive for 100% customer satisfaction.
As a further commitment to our clients, we only use commercial grade concrete sealing as an extra level of protection. With this high-quality sealant, the time span before recoating could be as much as 1 to 10 years depending on the area and traffic levels.
Contact Us About Our Concrete Sealing Services in St. Louis
For more detailed information on our concrete sealing services, contact us online or give us a call at 636-614-5284. We proudly serve St. Louis County and the surrounding areas including South County, West, County, St. Charles, and Wentzville.