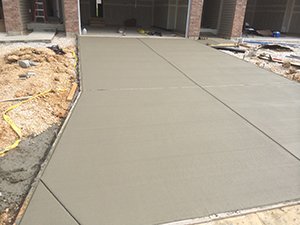 StoneEdge Concrete has over 50 plus years of combined experience in the concrete industry, having seen and repaired many different concrete installations suffering from different problems during this time. If you have issues with your existing concrete, but do not believe it is necessary to replace it entirely, contact us today at 636-614-5284 to speak with a concrete contractor and learn more about our concrete repair services.
Common Concrete Problems
While there are many problems that can occur with concrete patios, driveways, sidewalk, and other concrete elements, some of the more frequent concrete repair problems that need to be remedied include:
Cracking
This is probably the most common problem that requires concrete repair, and can be due to many reasons. Though your concrete has control joints to prevent cracking, due to the nature of concrete, as it starts to cure it will naturally shrink as the water evaporates, creating cracks. Even if this happens, the structure can still be sound and may only require patching using a concrete filler to prevent further water seeping into the cracks.
Spalling
This happens when the surface of the concrete starts to flake away. This is often caused by water seeping in, freezing, and thawing, along with poor concrete finishing or a weak surface due to a lack of curing. These can be remedied by using a skim coat to fill the areas that have had spalling. Once done, the surface should be sealed to help prevent the need for this concrete repair in the future.
Discoloration
This can occur as the result of the effects of adverse weather conditions, material exposure, and even the time taken to cure. Even though this is not major damage, it can often be aesthetically unappealing. A good concrete cleaner may take care of the issue, or if not you could consider a concrete stain to entirely transform the look of your concrete.
Crazing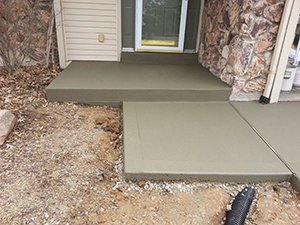 This is where the surface has dried early or the finishing is poor and leaves lots of hairline cracks in the surface. If your concrete has just been laid and you notice this, you should contact the contractor who did the installation. If they cannot fix it, contact us right away for fast concrete repair.
In addition to these common problems, there are many other problems which can be much more critical than these and will need further analysis by professionals.
StoneEdge Concrete has expert crews with over 20 combined years of experience who have successfully handled hundreds of concrete repair problems and lackluster workmanship from previous contractors in the following areas plus much more:
Driveways
Pool Decks
Walkways
Patios
Contact Our Concrete Repair Company in St. Louis
If you have concerns about any concrete you have on your property, we have professionals who will analyze the problem and provide you with a free concrete repair quote.
StoneEdge Concrete stands by all of our products and services, and our concrete contractors have spent many years perfecting their skills to ensure all of our work is done right the first time. For more information on our concrete repair services, you can speak to our concrete contractors at 636-614-5284 or through our convenient online contact form.