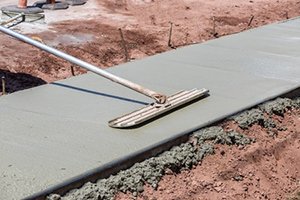 As well as all of the residential services we offer, our commercial concrete contractors can provide the same attention to detail, customer service, and 50 plus years of experience to any commercial project you may require in St. Louis or the surrounding areas. At StoneEdge Concrete, "no job too big or small" has been our motto from our humble beginnings, and one that we still carry with us to this day.
We offer comprehensive services and specialize in many areas such as large-scale paving and pouring foundation structures. All throughout construction, our skilled commercial concrete contractors follow all of the ASTM & ACI Standards and Practices to ensure all requirements have been met and that our work is the highest possible quality.
Contact our commercial concrete contractors today to learn more and get a free quote! You can reach us online or by calling 634-614-5284.
Our Commercial Concrete Contractor Services
At StoneEdge Concrete, we take pride in our work and push ourselves to go above and beyond the competition by offering comprehensive services such as:
Project Planning
Structural Excavation
Steel and Formwork
Trucking and Pumping
Concrete Finishing
Commercial concrete contractors should be capable of covering large areas depending on where construction is located. StoneEdge Concrete offers services to all of St. Louis County including South County, West County, and as far as Wentzville and St. Charles. Our commercial concrete contractors are always kept up to date with local building codes in these areas in order to provide the best service.
Our Commitment to Quality Commercial Concrete Services
As leading commercial concrete contractors, we stand by our products and services. Our highly experienced work crews have 20+ years experience and are greatly talented in this area.
Some highlights about our concrete services include:
Our crews are highly skilled and equipped with some of the best equipment to provide a top-notch job that is fully guaranteed.
All of our commercial concrete contractors put safety first and our fully aware of all worksite safety regulations and procedures.
Our dedicated teams will happily discuss all of your projects needs from planning to design and will ensure that all requirements and specifications will be met.
As leading commercial concrete contractors, StoneEdge Concrete fully understands what it takes to provide quality customer service and continues to expand our services to stay #1. We work hard and give the greatest attention to ensure the job is done right the first time. As a close team of dedicated professional commercial concrete contractors, we have a wide scope of experience and only use the most effective and modern methods in the industry.
For more information regarding our commercial concrete contractors and the services we offer or to get your free quote, you can speak to our dedicated professionals directly at 636-614-5284 or reach out to us via our convenient online contact form.